Posts for: October, 2015
By Miracle Dental Center
October 22, 2015
As a member of the best-selling pop group Spice Girls, Mel C (AKA Sporty Spice) enjoyed her share of musical superstardom. At the band's peak in the Nineties, the young singer's signature look featured baggy sweatpants, an assortment of tattoos, a nose stud and a gold-capped incisor, front and center in her mouth. Today, Melanie Chisholm is still singing — but now she's a mom, an amateur triathlete… and that gold tooth is just a memory. Not only that, her smile looks more evenly spaced and whiter than it did when she was referred to as the "tomboy" of the group.
What happened? In our view, it all boils down to changing tastes — plus a little bit of help from dental professionals. As the "wannabe" singer proves, there's no single standard when it comes to making your teeth look their best. Your own look is unique to you — and your smile can reflect that individuality.
For example, crowns (caps) are substantial coverings that may be placed on teeth when they are being restored. They are available in three types: gold, all-porcelain, or porcelain-fused-to-metal. The latter two are tooth-colored, while the gold is — well, shiny like gold bling. Which one is right for you? In many cases, it's your choice.
Likewise, dental veneers — wafer-thin shells that can correct cosmetic issues by covering the surface of your teeth — can be made in a variety of shades. Their hues may range from natural ivory to Hollywood white, and everything in between. What's the best color for you? Only you can say.
Some people opt for a "smile makeover" that uses small irregularities in the spacing and color of teeth to create a more "natural" look. Other folks want a perfectly even, brilliant white smile that dazzles the eye. Still others are looking to match or restore the smile they once had — perhaps even re-creating a signature gap between the teeth. As long as there are no other dental issues involved, the choice is yours.
So if you're unhappy with your smile — or if you feel it doesn't reflect the person you "wannabe" — why not talk to us about a smile makeover? Just call our office to schedule a consultation. You can learn more about this topic in the Dear Doctor magazine articles "Beautiful Smiles by Design" and "The Impact of a Smile Makeover."
By Miracle Dental Center
October 07, 2015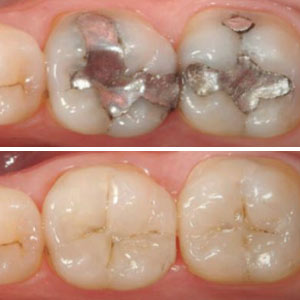 For over a hundred years dental amalgam — a combination of silver, mercury, tin and other metals — has been an effective filling material for teeth damaged by decay. But it has one major drawback — its metallic appearance stands out in stark contrast to the natural color of teeth.
As an alternative, composite resin fillings can match the color, shape and texture of natural teeth. These materials and the techniques used to bond them are proving just as effective as and more aesthetically pleasing than dental amalgam.
Fillings help protect and preserve a decayed tooth. By first removing decayed tooth structure through drilling, the resulting void is filled with durable material that strengthens the tooth and provides it protection from further decay.
The ultimate goal for restoration is to return the tooth to as near normal form and function as possible. Dental amalgam serves well in terms of function, providing the tooth strength in the face of the daily biting forces it encounters. In contrast, composite resins excel in appearance, but haven't always matched the durability of amalgam. They're material construction has improved over time, though, as well as the techniques used to bond them to teeth.
Most of these bonding techniques incorporate layering. The first step is to seal the dentin (the porous, living tissue just below the enamel); we then build up the composite material layer by layer within the tooth using special bonding adhesive and curing lights. In some cases where a large volume of tooth structure must be replaced, the restoration is first formed on the tooth and then removed for curing before being cemented into the tooth or a separate restoration is formed by a dental lab.
The end result is a tooth which both looks and functions like a fully intact tooth. Though care must be taken not to subject composite resin restorations to undue forces (no cracking open nutshells, for example), your new filling should continue to serve you and look great for a long time to come.
If you would like more information on metal-free restorations, please contact us or schedule an appointment for a consultation. You can also learn more about this topic by reading the Dear Doctor magazine article "The Natural Beauty of Tooth Colored Fillings."