Posts for: February, 2019
By Miracle Dental Center
February 18, 2019
When your mouth is dry, you know it: that sticky, uncomfortable feeling when you first wake up or when you're thirsty. Fortunately, it usually goes away after you eat or drink. But what if your mouth felt like that all the time? Then, it's no longer an irritation—chronic dry mouth could also increase your risk of dental disease.
Chronic dry mouth occurs because of inadequate saliva flow. Saliva plays an important role in preventing dental disease because it neutralizes acid, which can cause the mineral content in tooth enamel to break down and lead to tooth decay. The mouth becomes more acidic right after eating, but saliva can restore its normal pH levels in about an hour—as well as some of the enamel's lost mineral content. Without saliva, your tooth enamel is at greater risk from acid.
While a number of things can potentially interfere with normal saliva production, medication is the most common. More than 500 prescription drugs, including many antihistamines, diuretics or antidepressants, can cause dry mouth. Cancer radiation or chemotherapy treatment and certain metabolic conditions like diabetes or Parkinson's disease can also increase symptoms.
If you are experiencing unusual dry mouth symptoms, see your dentist first for a full examination. Your dentist can measure your saliva flow, check your prescriptions and medical history, and examine your salivary glands for abnormalities. With this more accurate picture of your condition, they can help direct you to the most effective remedies and treatments for the cause.
If medication is the problem, you can talk to your doctor about alternative prescriptions that have a lesser effect on saliva flow. You can also drink more water before and after taking oral medication and throughout the day to help lubricate your mouth. Chewing gums or mints with xylitol, a natural alcohol sugar, can also help: xylitol helps reduce the mouth's bacterial levels, as well as stimulate saliva flow.
Easing your dry mouth symptoms can make your life more pleasant. More importantly, it can reduce your risk of future dental problems caused by a lack of saliva.
If you would like more information on dealing with chronic dry mouth, please contact us or schedule an appointment for a consultation. You can also learn more about this topic by reading the Dear Doctor magazine article "Dry Mouth: Learn about the Causes and treatment of this Common Problem."
By Miracle Dental Center
February 08, 2019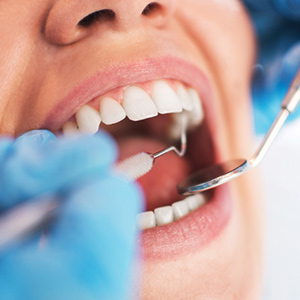 Periodontal (gum) disease is as common as it is destructive. Almost half of all adults 30 and older have some form—and those numbers increase to nearly three-quarters by age 65.
Fortunately, we have effective ways to treat this bacterial infection, especially if we catch it early. By thoroughly removing all plaque, the disease-causing, bacterial biofilm that accumulates on tooth surfaces, we can stop the infection and help the gums return to normal.
Unfortunately, though, you're at a greater risk for a repeat infection if you've already had gum disease. To lower your chances of future occurrences, we'll need to take your regular dental exams and cleanings to another level.
Although everyone benefits from routine dental care, if you've had gum disease you may see these and other changes in your normal dental visits.
More frequent visits. For most people, the frequency norm between dental cleanings and exams is about six months. But we may recommend more visits for you as a former gum disease patient: depending on the advancement of your disease, we might see you every three months once you've completed your initial treatment, and if your treatment required a periodontist, we may alternate maintenance appointments every three months.
Other treatments and medications. To control any increases in disease-causing bacteria, dentists may prescribe on-going medications or anti-bacterial applications. If you're on medication, we'll use your regular dental visits to monitor how well they're doing and modify your prescriptions as needed.
Long-term planning. Both dentist and patient must keep an eye out for the ongoing threat of another gum infection. It's helpful then to develop a plan for maintaining periodontal health and then revisiting and updating that plan as necessary. It may also be beneficial to perform certain procedures on the teeth and gums to make it easier to keep them clean in the future.
While everyone should take their oral health seriously, there's even greater reason to increase your vigilance if you've already had gum disease. With a little extra care, you can greatly reduce your chances of another bout with this destructive and aggressive disease.
If you would like more information on preventing recurring gum disease, please contact us or schedule an appointment for a consultation. You can also learn more about this topic by reading the Dear Doctor magazine article "Periodontal Cleanings."